After a long absence due to work demands, I return with a long post! I hope you enjoy it. Due to the nature of this post, comments WILL be moderated. There will be no religion bashing here. However, factual corrections are welcomed, as well as your personal experiences or observations.
----------------------------------------------------------------------------------------------------------
If you heard "I cover my head/hair due to my religion", you would probably think "oh, she must be Muslim", but it's very possible that you would be wrong. All three Abrahamaic faiths - Islam, Judaism, and Christianity - reference covering your head, though it is promoted in each faith to different extents and for different reasons. (As always, religious customs over time become cultural customs and sometimes continue as a cultural rather than religious practice.)
The most common Muslimah headcovering in the U.S. is usually referred to as the hijab, though there are many terms for head/hair covering items and the various forms they take (one piece, 2 piece, etc). The object of the hijab is to cover all hair, neck, ears (though earrings can stick out), and the upper part of the bosom. There is some variety as to how these are styled and a lot of that is due to the person's country of origin. For example, people from Turkey tend to allow a little more room for movement around the neck, as compared to people from Afghanistan.
Wearing of the hijab is encouraged starting around puberty, as a way of promoting modesty among girls who are developing. Use of hijab is seen as both treasuring your body as something to be shared only with your future husband, and also as helping avoid in providing men with temptation (lustful thoughts). It's not so much about denying sexuality as treating it as something private and special. I have to say, as the mother of a teenage girl, there's something very appealing about that in our overly sexualized country!
This would be (especially if I pinned it a little tighter around the face) an acceptable headcovering for most Muslim American ladies. I feel radiant in it, but people looked at me very strangely when I ran errands like this one evening. I am comfortable in it, but my teenager was a little rattled by it, and my husband thinks I am ridiculous. (Not that I LOOK ridiculous. That I AM ridiculous. He's probably right.)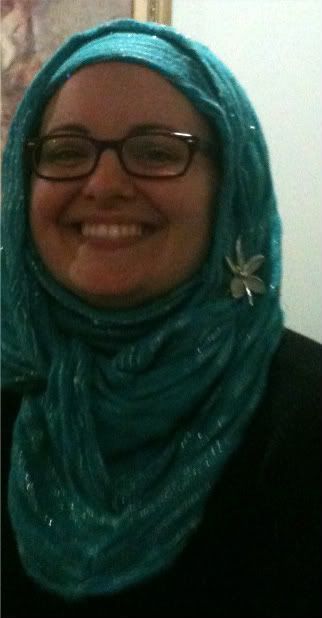 Oh yeah, I think going out like this qualifies me for VISIBLE MONDAY!
------------------------
Many Jewish married ladies wear
tichels
.
CLICK HERE
for an interesting, if not detailed article. I am pretty sure you say tishel, not tickle. Depending on which interpretation (Orthodox or other) they follow, these ladies may only wear a headband or small accessory, or they may cover all of their hair. Jewish ladies tie their scarves behind the neck, and visible ears and up to 3 inches of hair may be permissible according to what I have read. This habit of headcovering commences with marriage, as it is a symbol that certain things about a married woman are only for her husband. Interestingly, in the Reform movement of Judaism, headcovering is often frowned upon as too old fashioned.
So, this black sweater outfit's secular head covering would be acceptable for a Jewish lady who wasn't super conservative. It covers most of the head but doesn't necessarily identify the woman as being of a particular faith, because it's just a hat. This outfit elicits no response from bystanders (or hubby or teenager) as it doesn't deviate from the secular cultural norm.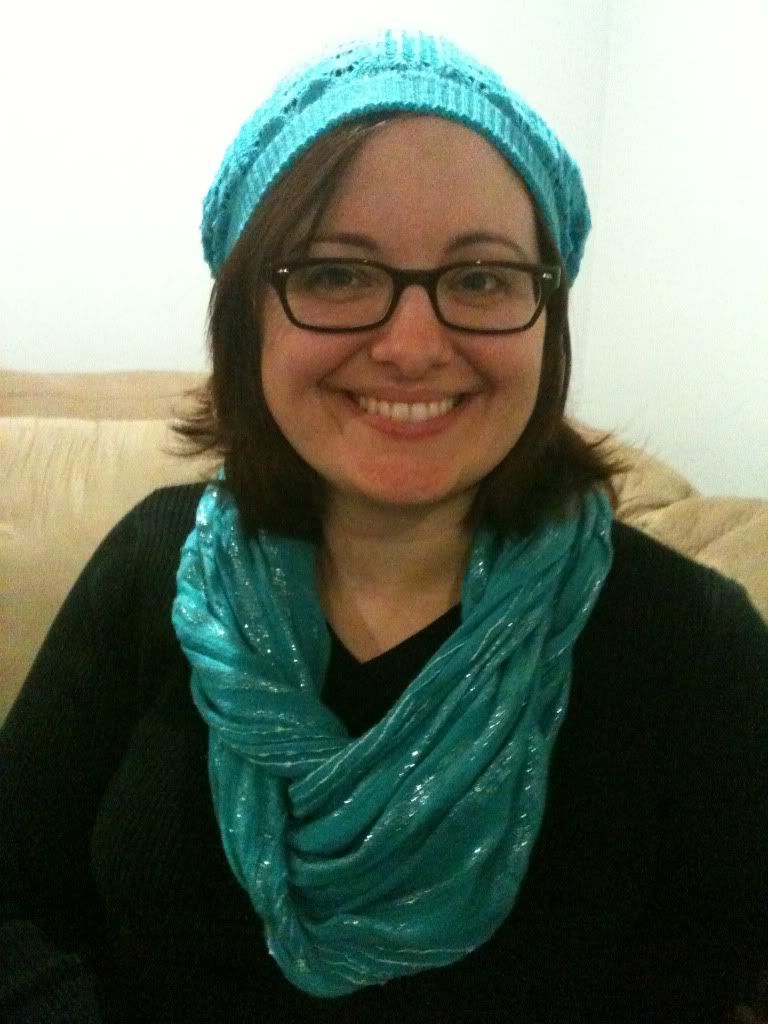 This gray sweater outfit's tichel would be acceptable for a married conservative Jewish lady. This styling is much more identifiable as being specific to a faith and a marital status, although African American ladies often use this styling with scarves for no religious reason. I got a lot of compliments from African American ladies when I wore this to work. I doubt that a single person looked at me and thought "oh, she's Jewish and married". I don't think that where I live in Michigan that there is a large enough conservative Jewish community for someone to associate this headcovering with Judaism. My husband and teenager just rolled their eyes at me.
Note: Some Jewish wives wear sheitels instead - a sheitel is when you wear a wig in order to cover your natural hair. That seems a little like cheating! But that comes down to the intention of headcovering. Is it a reminder just to you? Or is it an outward identification of yourself as 1) of a certain religion and/or 2) married?
Sheitel
------------------------
Christianity is the one where people say, "what? How is headcovering mandated? I am Christian, or I know Christians, and they don't cover their heads."
Most Christians who do cover only do it part time, such as while at church. I'll get into the verses in a minute.
Southern Baptist Ladies - I have quite a hat collection and people (my sister) make fun of me when I wear them. However, someone told me in my childhood that I had "a hat head" and I've been convinced ever since that hats and I were made for each other. You've seen me in hats on the blog - I should really stop. :P I would hazard a guess that most of these church ladies wear hats because it is a cultural tradition, not because they are aware of the Bible verses about it.
Catholic chapel veils - never had one, but aren't they just lovely? These are very specific to the Mass service and grounded in the Bible verses.
What verses? Here are the verses from Corinthians most cited when Christians discuss headcovering. It may be useful to note that it is in the New Testament, and is therefore part of the "new agreement", as people often argue that anything in the Old Testament was nullified by the new agreement. It has been analyzed to death, as every other bible verse, perhaps particularly because the verses that surround it have to do with the wife's submission to the husband - and that always gets people riled up. But here's the part just having to do with the headcovering.
Every man praying or prophesying, having his head covered, dishonoureth his head. But every woman that prayeth or prophesieth with her head uncovered dishonoureth her head: for that is even all one as if she were shaven. For if the woman be not covered, let her also be shorn: but if it be a shame for a woman to be shorn or shaven, let her be covered.
To me that seems pretty straight forward: Men should not pray with their heads covered. Women should. As a post Christ era woman your hair is your glory/honor and to be separated from it would be shameful. To pray without your head covered is shameful. To enforce that point, praying uncovered should result in your having your head shaved to disgrace you for your impudence before God.* Dramatic much? Yeah, but most consequences in the Bible are!
*Note: Would it amuse you to know that I used this verse when I was 15 to justify shaving my head? Such a smartass.
Elsewhere in the Bible it says that every breath should be a prayer. That we should be constantly in prayer. And if you are constantly in prayer, and your head should be covered while praying, then you wind up with permanent headcoverings pretty fast! This is the logic used by those who engage in full time Christian headcovering.
What do full time Christian headcoverers wear? Bandannas or casual hats are common among younger conservative Christian women, and you probably wouldn't notice anything unusual. However,
some Christians have adopted the more conservative coverings of the other faiths as they are well-designed for full time wear.
One notable exception to the "most Christians only cover part time" is the Amish tradition.
I wouldn't even know where to buy one of these so I did not try this.
I am interested in learning more about this subject, but don't know if I will follow up more as I am easily distracted. While a few styles seem devoted to masking attractiveness, most women seem to use these religious/cultural additions to their wardrobe as a creative means of self expression. Check out ebay or youtube - there are many products and tutorials to help with headcovering in an attractive way.
There are also Muslimah fashion bloggers, some of whom post photos of themselves in hijab, some who do so but edit out their faces, and some who just lay out the outfit - hijab included - and photograph it "empty". All of them are doing the same thing I/we do with our blogs, just adapting it to meet their personal definition of modesty.
Overall I really enjoy wearing an attractive headcovering and plan on incorporating them into my wardrobe more, perhaps particularly on Sundays? Until I get distracted by something else! But when I do I will be sure to tell you all about it.
For some beautiful images of headcovering, click
THIS PAGE
.
----------------------------------------------------------------------------------------------------------
Afterthought: when people were calling Hillary Clinton "Hijab Hillary", that was not accurate! This loose wrapping she wore in Pakistan is more of a dupatta than a hijab. Hijab doesn't mean scarf, it means barrier or partition! If you can see hair/neck/ears, it's not hijab.
Common in Pakistan and India, Dupatti styling allows for showing of hair, neck, etc. Many who think they are wearing a scarf "hijab style" are actually wearing it in the style of a dupatta.
----------------------------------------------------------------------------------------------------------
Other than the picture of me, I grabbed the others off Google images. No copyright infringement is intended, but I neglected to source each of them properly. Sorry! If you own one of these pics, let me know so I can remove or credit it to you.