Shybiker said the other day she's been reading my blog for "years". And then it seems like everyone is celebrating a blogoversary lately .... so I looked to see when mine is. Blogger says I've been here since May 2008. That cannot be true. Seriously? 4 years & 5 months. That's insane. I only claim the last 2 years of it, and apparently I missed that anniversary by a couple of weeks. But let's celebrate anyway!
Hmm, let's look at my photobucket and see what the oldest outfit pic I can find is. Ah, here we go.
Interestingly, I still have the shirt and tank and I think the shoes. No longer have the palm plants or the arch thing, and that floor is now carpeted. STILL HAVE THE GLASSES ON MY FACE!! Haha! And I think I'm a little heavier there.
Oh, a couple pages later, there's kiddo in the same items... making fun of my "cowboy" stuff. I wore those boots yesterday, actually.
As I scroll through there are oh so many fails. It's pretty funny! And some items I just can't believe how old they are.
Like, this looked stupid then. Why do I still own it now? Answer? Because it looks cuter with boots and yellow is still my favorite color.
That is a fake ponytail. And the hair bump. Oh. My. God. And you know I need something with a waist since I don't have one of my own... Oh dear.
Please explain to me why I still own this suit? (Maybe it's better since I lost some weight?) Still have the dog, though.
I was obsessed with denim jackets. I need to consign the two I still have.
How. Did. No One. Stop Me. Happy to report the only items standing are the purse and boots (never to be worn with a skirt again.)
Hubby crashing a blog pic. I miss him!
This may be the longest my hair has ever been. I would love for it to look that good every day!
Oh my gosh, I just dug that jacket out of a box and wore it this weekend. And I wrecked that car a couple of years ago.
Here's my sexy hubby again. Did I mention I miss him? (Haha, I cropped out his big ghetto booty.)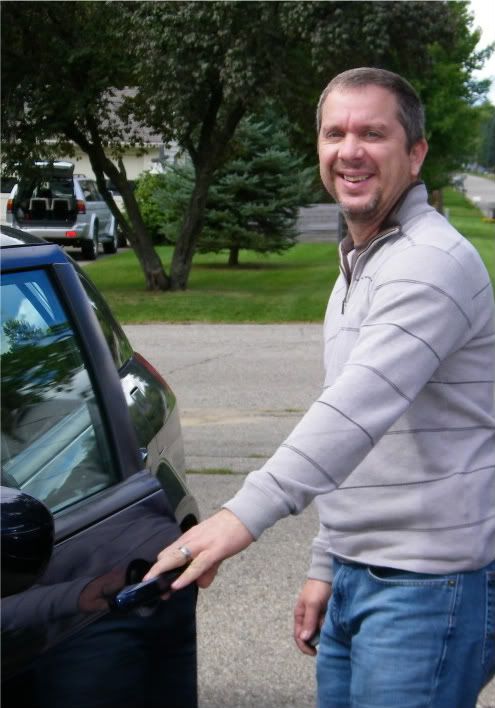 Well, that's enough nostalgia for now.
Lessons learned?
Trust photos, not how you feel at the moment. I have felt really cute in some stupid looking shit.
Get new contacts.
Grow my hair out and leave it dark. Reconsider bangs vs no bangs.
Lose some more weight.
Kiss that man repeatedly as soon as possible.
Everyone looks good in "happy".